ISMB 2014: BioinfoCoreWorkshop
From BioWiki
Jump to navigation
Jump to search
The Call for Workshop Track Proposals for ISMB 2014 can be found here.
The workshop is scheduled for Sunday, July 13, 2014, 3:05 p.m. – 5:00 p.m
Timetable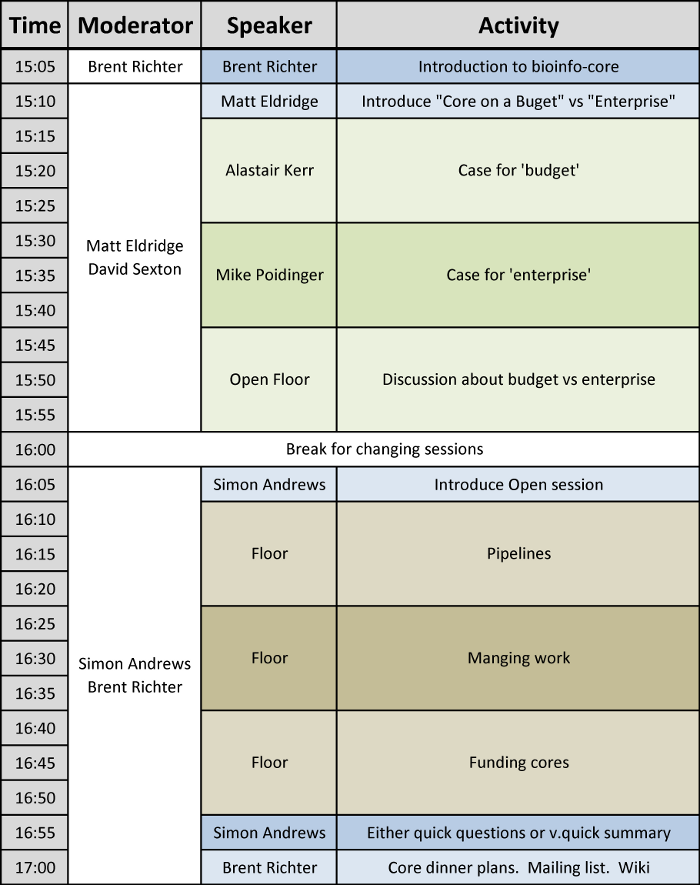 Submission
This workshop was submitted and accepted for ISMB 2014. The final submitted document can be accessed here.
Introduction
The ISMB 2014 meeting will be held July 11 - 15 in Boston. As in previous years, the bioinfo-core group will submit a proposal for a workshop and we would like to encourage greater involvement from everyone in the bioinfo-core community, including members of the mailing list, those who dial into the quarterly teleconference calls and those who've attended past workshops, in helping to shape the format and content of the 2014 workshop.
ISMB workshops run on the same schedule as other conference parallel tracks and are half-day sessions of 2 hours, normally split into two 55-minute sessions and allowing for 5 minutes movement between parallel tracks.
The deadline for submitting workshop proposals is December 20.
Topic Suggestions
Commercial bioinformatics software - in what areas do bioinformatics cores value commercial software over open source/freely available alternatives and how do they manage the costs involved?
Bioinformatics tool management - installation, testing
Analysis reproducibility
The Biologist is the analyst - teaching bioligists programming skills or tools such as Galaxy
Data visualization
Economics of a Core
"Bioinformatics on a budget" vs "A well funded bioinformatics core" - what each can learn from the other?
Please send your ideas for topics or thoughts on these to the [bioinfo-core list].
Potential Changes to Format
We are considering a change to the format for the second part of the workshop to be more of an open discussion session, following a similar model to that which has proved successful for a high-throughput sequencing day meeting held annually in Cambridge, UK that attracts around 150 people. This would feature a series of questions or burning issues submitted in advance by the workshop participants that would then be collated and organized into groupings or themes. During the workshop session these would be introduced and opened up for discussion and debate.
We'd be very happy to hear people's thoughts about trying something like this - please send your comments to the [bioinfo-core list].
Simon Andrews is one of the organizers of the Cambridge sequencing meeting and here are his comments about how it worked, taken from his posting to the bioinfo-core list:
"Several weeks before the meeting put out a request to the people attending (or the core mailing list in our case) asking for submissions of short topics which they would find interesting. The topics could be a simple question, a suggestion of an area for discussion or a specific observation which they thought was interesting. We said that people could supplement their question with a single powerpoint slide if it helped to illustrate it (showing a graph, QC report etc), but in practice very few people added the slide. All submissions were to be presented anonymously unless people specifically said that they'd be happy to have their name attached.
A week or so before the meeting a group of the organisers got together to go through the submissions. They put them into rough groupings based on similar areas of interest and then went through to deduplicate and rationalise them to try to tie together similar themes. They then finally put the deduplicated topics in order based on their popularity.
At the meeting we had one or two people who were responsible for managing the session who worked their way through the questions putting them out to group discussion and deciding when enough time has been spent on a topic to move on to the next one. No question got more than 5 minutes or so of time and some were skipped very quickly if it didn't kick off any discussion. The session ran until we ran out of time and we may not have covered all of the topics in the list.
After the session the whole set of discussion topics were put up on the web (our previous meeting used SeqAnswers, but we'd probably use the wiki and post them to the mailing list) so that we could flesh out the discussion of the topics we did cover and have a chance to go through the questions we didn't get to."